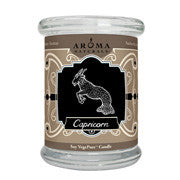 Capricorn
Aromas: Camellia, Orange Blossom, Carnation & Baby's Breath
December 22nd - January 19th
Element: Earth | Stone: Ruby | Ruling Planet: Saturn

Capricorn Symbols: The Sea Goat, a mythical creature with the upper body of a goat and the tail of a fish.  The 'V' shaped glyph is said to represent the goat's horned head, with the curling, sinuous fish's tail behind. There are a number of sea gods in ancient myth, ruling over the mysterious unconscious realms of the ocean. When the goat climbs up onto the land, it brings spiritual wisdom to the practical tasks and need to build, symbolised by the earth. Capricorn is an ambitious sign, but able (in its highest expression) to understand that simply satisfying the individual ego is never truly fulfilling.
Makes a GREAT BIRTHDAY GIFT!
Astrology illuminates the far corners of humanity by providing a key to understanding ourselves the world we live in. Our natural candles will illuminate your life and provide you with unique zodiac information for your sign. From the aroma to the choice in color, each candle is specially crafted and creatively styled for each of the indivdual signs of zodiac. Original hand drawn sign includes a scroll of 8 key points that will light your zodiac knowledge and create an unforgettable gift. 
Soy VegePure® with Pure Plant Aromas. 
Glass Size: 2.75" x 3.25"
Approximate burn time is 35 hours.
---
Share this Product
---
More from this collection