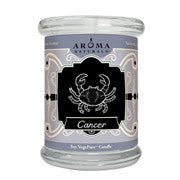 Cancer
Aromas: Water Lily, Iris, Carnation & Southern Magnolia
June 21st - July 22nd

Element: Water | Stone: Emerald | Ruling Planet: Moon

Cancer Symbol: The Crab. Two circles with tails represent either a woman's breasts, or alternatively, the crab with its powerful, curving claws. The breasts symbolise motherhood and nourishment – key Cancerian concerns, while the crab symbol suggests the sidelong approach and incredible tenacity associated with this sign - and its symbolic creature.  The crab's hard shell protects its vulnerable interior too. Cancerians are usually very emotionally self-protective and butter-soft within.
Makes a GREAT BIRTHDAY GIFT!
Astrology illuminates the far corners of humanity by providing a key to understanding ourselves the world we live in. Our natural candles will illuminate your life and provide you with unique zodiac information for your sign. From the aroma to the choice in color, each candle is specially crafted and creatively styled for each of the indivdual signs of zodiac. Original hand drawn sign includes a scroll of 8 key points that will light your zodiac knowledge and create an unforgettable gift. 
Soy VegePure® with Pure Plant Aromas. 
Glass Size: 2.75" x 3.25"
Approximate burn time is 35 hours.
---
Share this Product
---
More from this collection