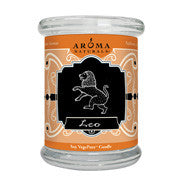 Leo
Aromas: Dahlia, Lily, Marigold, Sunflower & Heliotrope
July 23rd - August 22nd
Element: Fire | Stone: Onyx | Ruling Planet: Sun

Leo Symbol: The Lion. A curving line represents the lion's mane, the symbolic animal belonging to this sunny, summer sign. Some important Leo characteristics are feline in nature – the proud, graceful bearing; the need for rest followed by intense activity; the sensual love of pleasure and playful qualities. The lion's roar, too, can be easily imagined when an angry Leo finally lets off steam.
Makes a GREAT BIRTHDAY GIFT!
Astrology illuminates the far corners of humanity by providing a key to understanding ourselves the world we live in. Our natural candles will illuminate your life and provide you with unique zodiac information for your sign. From the aroma to the choice in color, each candle is specially crafted and creatively styled for each of the indivdual signs of zodiac. Original hand drawn sign includes a scroll of 8 key points that will light your zodiac knowledge and create an unforgettable gift. 
Soy VegePure® with Pure Plant Aromas. 
Glass Size: 2.75" x 3.25"
Approximate burn time is 35 hours.
---
Share this Product
---
More from this collection