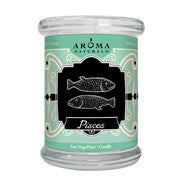 Pisces
Aromas: Orchid, Lilac, Wisteria, Water Lily, Poppy & Pansy
February 19th - March 20th
Element: Water | Stone: Amethyst | Ruling Planet: Neptune

Pisces Symbol: The Two Fishes, joined together, but swimming in opposite directions. Another dual sign, like Gemini, the two fishes of Pisces represent the lifelong battle of the Piscean nature. One fish swims towards the soulful, mystical oceans, intent upon sacrificing itself for the good of others, or for some spiritual or political belief. The other swims towards self-fulfilment, and achieving personal goals. Piscean intuition, symbolised by the waters in which the fishes swim, is what makes it possible for them to sense the whole picture and balance their inner struggle. Learning how to trust and develop their intuition is especially important for this complex, sensitive sign.
Makes a GREAT BIRTHDAY GIFT!
Astrology illuminates the far corners of humanity by providing a key to understanding ourselves the world we live in. Our natural candles will illuminate your life and provide you with unique zodiac information for your sign. From the aroma to the choice in color, each candle is specially crafted and creatively styled for each of the indivdual signs of zodiac. Original hand drawn sign includes a scroll of 8 key points that will light your zodiac knowledge and create an unforgettable gift. 
Soy VegePure® with Pure Plant Aromas. 
Glass Size: 2.75" x 3.25"
Approximate burn time is 35 hours.
---
Share this Product
---
More from this collection