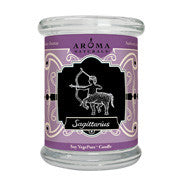 Sagittarius
Aromas: Mum, Hydrangea, Dahlia & Peony
November 22nd - December 21st
Element: Fire | Stone: Topaz | Ruling Planet: Jupiter

Sagittarius Symbols: A centaur (half man, half horse) with a bow and arrow. The glyph shows an arrow, or occasionally a bow and arrow. The mythic centaur has the upper body of a man, and the legs and lower body of a horse – ever restless and eager to gallop off in search of new horizons, like many people born under this sign. The arrows represent ambitions, dreams and hopes being shot into the air towards some mystical target. Sagittarius is often a philosophical character, able to see paradox and duality because they are an essential part of the Sagittarian personality.
Makes a GREAT BIRTHDAY GIFT!
Astrology illuminates the far corners of humanity by providing a key to understanding ourselves the world we live in. Our natural candles will illuminate your life and provide you with unique zodiac information for your sign. From the aroma to the choice in color, each candle is specially crafted and creatively styled for each of the indivdual signs of zodiac. Original hand drawn sign includes a scroll of 8 key points that will light your zodiac knowledge and create an unforgettable gift. 
Soy VegePure® with Pure Plant Aromas. 
Glass Size: 2.75" x 3.25"
Approximate burn time is 35 hours.
---
Share this Product
---
More from this collection