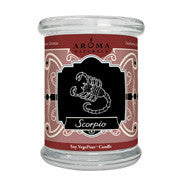 Scorpio
Aromas: Anemone, Heather & Gardenia
October 23rd - November 21st
Element: Water | Stone: Beryl | Ruling Planet: Pluto

Scorpio Symbols: The Scorpion and The Eagle.  The 'M' like glyph with an arrowed tail is said to represent the scorpion and its deadly sting. Intense and brooding, Scorpios do have a certain reputation for revenge and retribution – the 'sting in the tail' is considered part of their character. The Eagle represents the higher nature of Scorpio -  concerned with transformation and rebirth through ecstatic sexual love, plus the ability to make a conscious decision to rise far above jealousy, resentment and poisonous, destructive urges.

Makes a GREAT BIRTHDAY GIFT!
Astrology illuminates the far corners of humanity by providing a key to understanding ourselves the world we live in. Our natural candles will illuminate your life and provide you with unique zodiac information for your sign. From the aroma to the choice in color, each candle is specially crafted and creatively styled for each of the indivdual signs of zodiac. Original hand drawn sign includes a scroll of 8 key points that will light your zodiac knowledge and create an unforgettable gift. 
Soy VegePure® with Pure Plant Aromas. 
Glass Size: 2.75" x 3.25"
Approximate burn time is 35 hours.
---
Share this Product
---
More from this collection