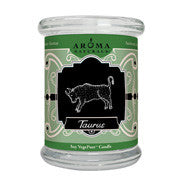 Taurus
Aromas: Rose, Daisy, Lily & Daffodil
April 20th - May 20th
Element: Earth | Stone: Sapphire | Ruling Planet: Venus

Taurus Symbol: The Bull. The Chaldeans, Ancient Egyptians and the Greeks are all associated with the mythology of the bull-king, and much bull symbolism is found in these ancient cultures. This glyph denotes the round face and upwardly curving horns of the bull – a magnificent animal that is hard, if not impossible, to budge; possessive about its space; dangerous when roused; but can be lazy, slow moving, and sensual. Taureans can be very concerned with material security, and acquiring wealth – becoming possessive about possessions and cautious about change.
Makes a GREAT BIRTHDAY GIFT!
Astrology illuminates the far corners of humanity by providing a key to understanding ourselves the world we live in. Our natural candles will illuminate your life and provide you with unique zodiac information for your sign. From the aroma to the choice in color, each candle is specially crafted and creatively styled for each of the indivdual signs of zodiac. Original hand drawn sign includes a scroll of 8 key points that will light your zodiac knowledge and create an unforgettable gift. 
Soy VegePure® with Pure Plant Aromas. 
Glass Size: 2.75" x 3.25"
Approximate burn time is 35 hours.
---
Share this Product
---
More from this collection