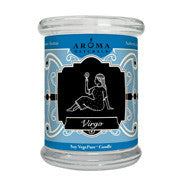 Virgo
Aromas: Aster, Chrysanthemum, Ivy & Fern
August 23rd - September 22nd
Element: Earth | Stone: Carnelian | Ruling Planet: Sun

Virgo Symbol: The Virgin.  The Virgin of Virgo is the only female figure in the Zodiac, the other single human figure being the male Water Bearer of Aquarius. The maiden, or virgin, usually holds a ripe ear of wheat, linking her with ancient goddesses such as Roman Ceres and the Greek earth goddess Demeter. The coiled 'M' of this glyph is said to represent the intestines, a part of the body ruled by Virgo, or the ovaries, vagina and uterus.  Virgo is traditionally linked with health, hygiene, and all forms of service and healing. Virgos are often most concerned with diet, and suffer from nervous indigestion when upset or worried.
Makes a GREAT BIRTHDAY GIFT!
Astrology illuminates the far corners of humanity by providing a key to understanding ourselves the world we live in. Our natural candles will illuminate your life and provide you with unique zodiac information for your sign. From the aroma to the choice in color, each candle is specially crafted and creatively styled for each of the indivdual signs of zodiac. Original hand drawn sign includes a scroll of 8 key points that will light your zodiac knowledge and create an unforgettable gift. 
Soy VegePure® with Pure Plant Aromas. 
Glass Size: 2.75" x 3.25"
Approximate burn time is 35 hours.
---
Share this Product
---
More from this collection